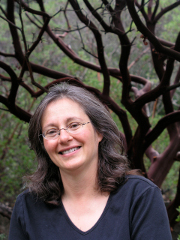 It is my good fortune to be widely published in literary magazines, with well more than 100 publications including short fiction, poetry, essay, and review. These have earned over 50 awards, amongst them, four Pushcart nominations.
My three novels are: ROPELESS, (Present Tense Press: 2005) a rollicking mother/daughter drama that celebrates possibilities despite disabilities; THE BODY OF HELEN, inspired by modern dancer, Martha Graham; and THE NOVEL OF THE CENTURY, a romantic comedy about the importance of love, books, and choosing both. These have done well in competitions, with 23 prizes between them.
I have also written screenplay, stage play, songs; I can't get enough of that haiku stuff. I guess you could call me a writing fool – been that way my whole life. Born and raised in the Jewish north suburbs of Chicago, I won first place in the city's play writing competition for Jewish youth two years in a row. I also won a weekly column in my town's local paper featuring news from the high school – my first paying gig.
My undergraduate degree from the University of Illinois was in fiction writing. While there I enjoyed three years as the first-string theater reviewer for the university paper, produced and anchored a television magazine program for local access cable, and worked crew for the town's PBS station. In addition, I ran my own underground paper and served as an editor on a poetry magazine.
I stayed on at U. of I. to take a masters degree in Library and Information Science during which I published a monograph for the state on computer use in libraries. I worked as a professional librarian for about eight years with specialties in P.R., public book talks, adult literacy, and humanities reference.
Eventually I returned to graduate school to study American Art History but reverted to my roots instead, winding up in the MFA program for Fiction Writing at the University of Pittsburgh. While there, I staged group poetry performances comprised of multi-voiced collaborations as well as an annual one-woman show.
I have worked as an academic advisor, a counselor on a suicide prevention line (for which I authored a manual), a language arts tutor for learning disabled students, and a nanny. I also formed and managed a popular cabaret performance group called The Jazz Singers' Collective. Being part of the editorial staff at the e-zine, Triplopia, was particularly enjoyable.
These days, in addition to my creative work, I write a monthly poetry critique for WinningWriters.com.